A CCTV system for fund-stricken art schools that provides surveillance whilst simultaneously capturing images and style data that are analysed and posted to an adjoining fashion blog to generate profit.
Art & Design schools are typically filled with trend-setting creatives, but increasingly suffer from lack of funding. StyleEyes helps institutions utilize their stylish student body by harvesting thier trend data and publishing it to the web.

The system comprises of a camera equipped with face recognition to detect passing students. When a student is detected, a photograph of their outfit is captured, analyzed and uploaded directly to the StyleEyes blog. The mirror beneath the camera helps the student pose in a flattering manner, while the ring flash alerts the student to the photo being taken, but also helps to ensure that the image has blog-worthy levels of light exposure and contrast.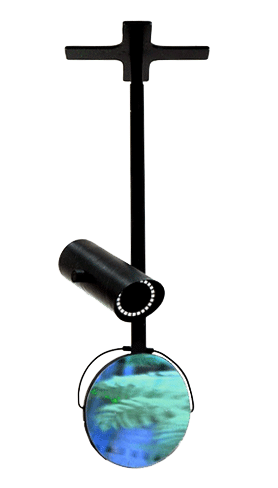 Additionally, the images are analysed to provide key insights into trending colour palettes for the current and next season. This data is displayed on the blog for subscribers to view at a premium rate. Access to the StyleEyes is charged at a monthly rate and the platform simultaneously provides lucrative advertising space to further the financial potential.
The system challenges our existing relationship towards data-trading and CCTV by providing a direct financial benefit for the operator.